Janet vanWeringh SuperSOARer S2023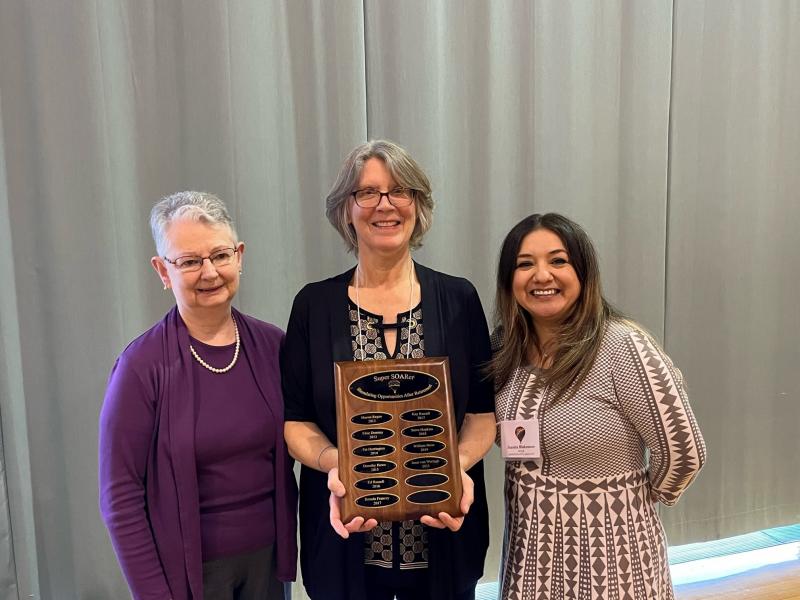 Click the above image to View Photo Gallery
At the spring luncheon on May 17, SOAR members and friends came together in the Barrington Student Center on the SUNY Potsdam campus to acknowledge the organization's 2023 SuperSOARer awardee, Janet van Weringh.
This award is given annually to a SOAR member who has contributed significantly to the SOAR organization in the following ways: governance, administration, teaching and volunteerism.
Janet has served in numerous roles as a member of the volunteer organization, including recently beginning the second year of her two-year stint as Chair of the 14-member Board of Directors. Most importantly, she established the Board's Technology Committee soon after joining the Board in 2017 and moved the organization into the 21st century by utilizing her excellent computer knowledge and skills.
In fact, it was noted that SOAR most likely would have fallen by the wayside during the years of restricted gatherings throughout the COVID pandemic if not for Janet's patience and guidance as she taught many SOAR members how to use Zoom. It was our only means of connecting during that time, and a small number of members persevered with her help.
Among her numerous accomplishments, Janet has worked with SOAR's California-based computer consultant to upgrade the course registration process from paper to an electronic format, thus saving large and rising mailing costs. She also maintains our website, www.soarnorthcountry.com . Her style of leadership is democratic and collaborative, seeking suggestions and ideas from SOAR officers and members alike. Her dedication to SOAR is evident in her willingness to help with any task, in her patience with others, in her kindness and in her persistence to get things done.>
Awards Committee member Sharon Regan, filling in for Chair Juanita Babcock, began the award speech with these words: "If you look up teamwork in the dictionary, you will see Janet's name in the very first definition." The SOAR membership congratulates Janet van Weringh as the 2023 SuperSOARer winner and thanks her for her ongoing service and dedication to our recently revitalized organization. What's next, Janet? Paying the SOAR fees online? Time will tell."
Updated: 2023-06-05 12:44:44
Other News
Remembering Jim Barry
SOAR was honored to remember Jim Barry at the SOAR Fall Luncheon with a moving speech by Lyn Swafford.
---
Contact
SOAR
382 Van Housen Ext.
SUNY Potsdam
44 Pierrepont Ave.
Potsdam, New York 13676

Office hours: 9:00-2:00 - Monday, Wednesday, Friday (hours may vary when SOAR is not in session)

Phone: 315-267-2690

E-Mail: soar@potsdam.edu

Visit our sponsoring institution:
SUNY Potsdam