"Super SOARers" for Spring 2009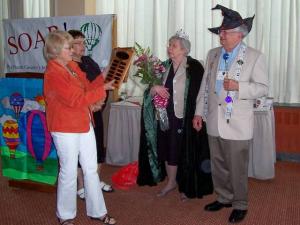 OTIS, our "Financial Wizard," gives wise counsel for a steady, balanced approach to budget and personnel. It is largely due to his endeavors that money has been saved and members' dues have been kept so low. We continue to count on him to present a budget with sound accounting each month; he keeps us on track with expenditures and future needs. Being the SOAR financial wizard is an important commitment which he handles with ease and a sense of humor. He also shares his creative side with SOAR members as teacher of the stained glass craft.

FRAN, our "Queen of SOAR" has delivered a number of popular courses on the Royalty of Europe and the First Ladies of the United States. As "Queen of SOAR" she has solicited other instructors to teach SOAR classes, served many years as an active Board member, helps plan and organize SOAR trips. Fran also makes beautiful quilted pieces which she shares with others, including SOAR.
Updated: 2013-05-29 10:29:42
Other News
AARP honoring SOAR
On 8/20/19, our local AARP Chapter held their meeting at the Lobster House. Jim Barry and Mark Coleman attended. SOAR was given a plaque recognizing the contribution SOAR has made made for our loca...
---
Contact
SOAR
382 Van Housen Ext.
SUNY Potsdam
44 Pierrepont Ave.
Potsdam, New York 13676

Office hours: 9:00-2:00 - Monday, Wednesday, Friday (hours may vary when SOAR is not in session)

Phone: 315-267-2690

E-Mail: soar@potsdam.edu

Visit our sponsoring institution:
SUNY Potsdam