Leon LeBeau Educator SOARing Award presented to Mark Coleman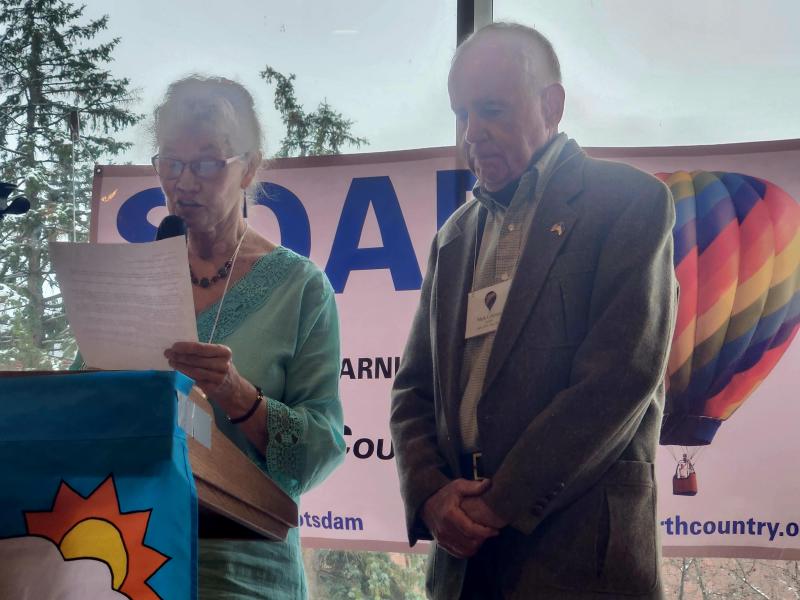 Click the above image to View Photo Gallery
SOAR was honored to award Mark Coleman with the Leon LeBeau Educator Award at the Fall 2022 Luncheon on November 16 2022. The award was presented to Mark by Board Member and Awards Committee Chair Juanita Babcock, along with the following words:
The Leon LeBeau Award, established in 2009, is awarded each Fall to honor a SOAR presenter who has made exceptional contributions to the educational experiences or well being of SOAR members.
Mark Coleman is this year's recipient of this honor.
Mark has taught 15 courses for SOAR over the years. These encompass a wide range of topics, including On the Road in Picardy, Normandy, Brittany, and Loire Valley; Macbeth; Around the Baltic Sea; Romeo and Juliet; Hamlet on Film; Bulgaria and Macedonia; Shakespeare in Performance: Henry V; and The Tempest, along with many more offerings.
SOAR students can personally attest to the scholastic enrichment derived from Mark's Shakespeare courses. He made esoteric themes understandable and pleasurable in each class. Mark's love and knowledge of, and enthusiasm for, his classes were infectious and palpable. This zeal created an excitement in his students that lasted far beyond the end of the class sessions.
Mark's presentations for Vicarious Voyagers were equally well received. Mark and Cynthia, Mark's wife of many years, have traveled extensively throughout the world, absorbing the culture, history, and essence of each country. Cynthia was also a part of many of the academic and traveling presentations.
In addition to teaching all these topics, Mark served on the SOAR Board of Directors for many years and also served as Chair and Co-chair. Additionally, Mark authored the publication of the Course Booklet and SOAR Newsletter for many issues.
Congratulations, Mark. SOAR gives its sincerest gratitude to you for all that you have given to this organization!
Updated: 2023-11-17 10:08:55
Contact
SOAR
382 Van Housen Ext.
SUNY Potsdam
44 Pierrepont Ave.
Potsdam, New York 13676

Office hours: 9:00-2:00 - Monday, Wednesday, Friday (hours may vary when SOAR is not in session)

Phone: 315-267-2690

E-Mail: soar@potsdam.edu

Visit our sponsoring institution:
SUNY Potsdam