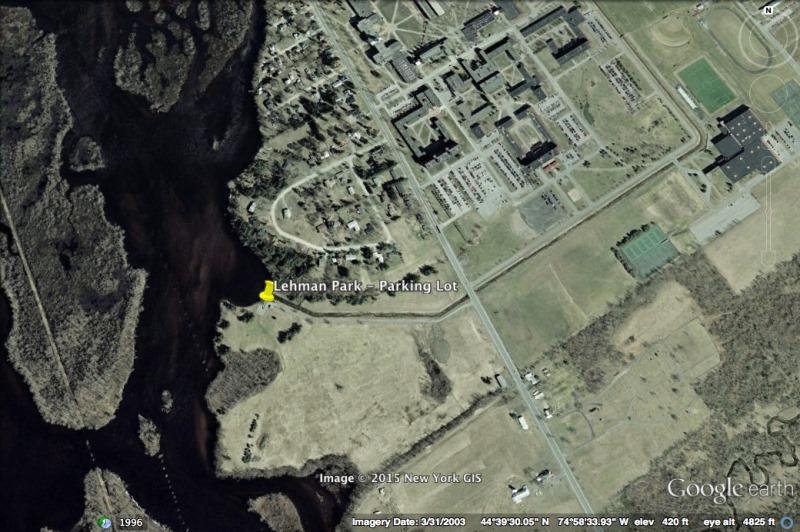 Click the above image to View Photo Gallery
Lehman Park
Pierrpont Ave.
Potsdam, NY 13676
Phone:
Website:
Print Info
DESCRIPTION / DIRECTIONS: Lehman Park is large mostly open area on the Raquette River. It is almost straight south from Maxcy Hall. (Click on the photo to get a satellite image view). The group will meet first in Maxcy 104 and then go to the park. To go independently to the park, travel south on Rt.56 toward Hannawa Falls. The campus will be on your left. As you reach the end of campus, you will notice a small road (Akwesasne Road) on the right. Turn right onto this road and park at the small parking lot near the river. Then walk to the research site.
PARKING: Park in the designated area and walk (1/4 mile) over a rolling terrain to the site. Driving to the site is not recommended as it can be muddy and treacherous for cars.
ACCESSIBILITY: It is not easy walk to the site which is about 1/4 mile east of the parking area.
RESTROOMS: No facilities
TECH and OTHER EQUIPMENT: none
FURNISHINGS: green grass, trees, rocks and water
Presenter's CAP: 20
NOTE: The "red marker" on the Google map below marks only where Pierrepont Ave. is located. Lehman Park is the green area farther south (down on the map), frollow "Canton Drive" below Maxcy Hall to see the entrance to the park.